Document Repository
Repository Overview
The Dashboard document repository provides a single, permanent location to view all documentation uploaded in support of compliance.
Navigate to the Document Repository using the folder icon in the main navigation on the left.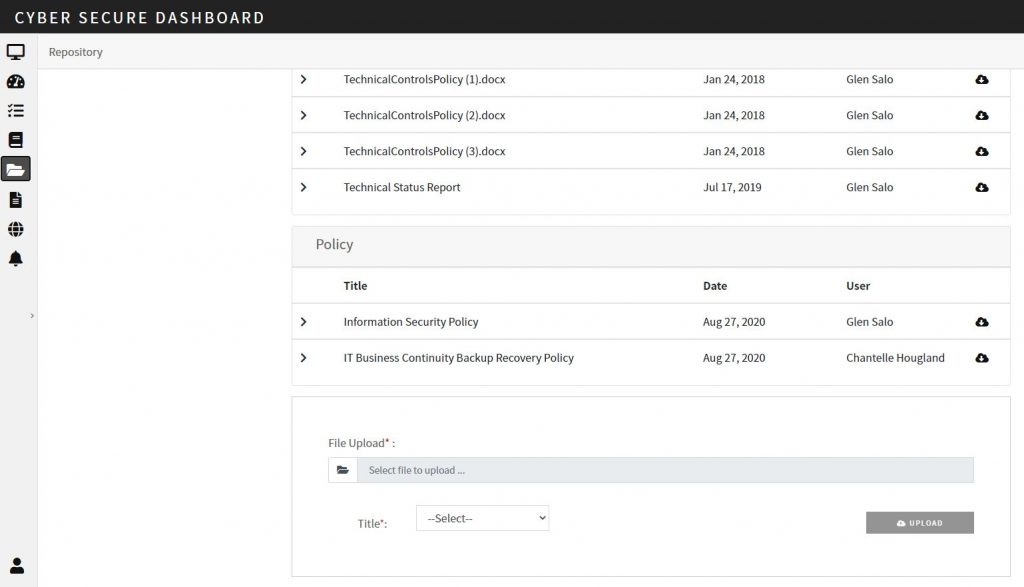 When documentation is viewed in the repository, it is saved under one of two main categories 1) Policy and 2) Other.
Policy Documents
Policy documents are limited to the predefined policies required for compliance. These include:
Information Security Policy
IT Business Continuity – Backup Recovery Policy
POAM – Plan of Action and Milestones
Incident Reporting and Data Breach Response Policy
Acceptable Use Policy
Information Security Program
HR Personnel Security Management Policy
Technical Controls Policy
Security Operations Policy
Other Documents
Other documents include any files uploaded as documentation associated with compliance activities. For example: a screen shot of a report that shows the security status of a given system – which I uploaded when I was addressing a specific control.
File Upload
Most documents will be uploaded from inside the tool and associated with the control they address. However, some documents, like Policy documents or other organizational information may not be associated with any individual controls. These documents can be uploaded from the Document Repository page. Further, any document uploaded to the repository can be associated with any individual control at any time.
Deleting Files from the Repository
Documents can not be deleted from the Repository in the current version of the tool. This feature is, however, coming soon.